Our Tresco Painting Holidays on the Isles of Scilly, in association with the Tresco Estate, are hosted by artists who know the islands intimately. The four-day painting holiday consists of painting tuition, five nights' dinner, B&B at the New Inn, spa membership, Abbey Gardens entrance, a boat trip to another island and a complimentary drinks reception on the arrival evening (all guests must arrive the day before the course start date). To see tutors and dates click 'read more' below.
Course #1 Anita Reynolds 9th to 12th of May 2024
Course #2 Amanda Hoskin 23rd to 26th May 2024
Course #3 Imogen Bone 15th to 18th June 2024
Course #4 Maggie O'Brien 4th to 7th July 2024
Course #5 Maggie O'Brien 7th to 10th of September 2024
Course #6 Paul Lewin 21st to 24th September 2024
Due to the nature of the terrain on the island, this course is not suitable for anyone unable to; walk for at least a mile, often over uneven surfaces, get on and off small boats or climb steep granite quayside steps. It is also important to be agile enough to be seated on the ground at times.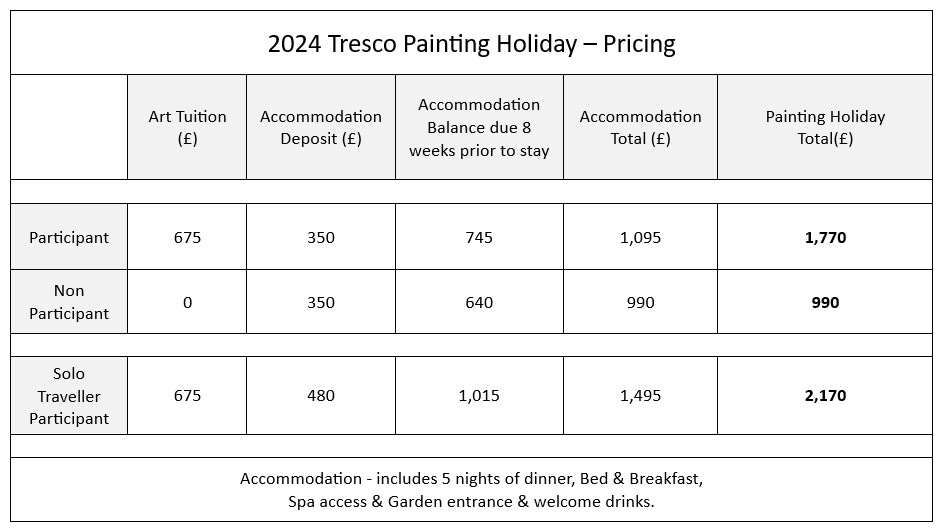 Travel Arrangements
Please be aware you are responsible for all your travel arrangements
This can be done directly through Isles of Scilly Travel or by calling +44 (0)1736 334 220. Here you can book for either the Scillionian ferry from Penzance Harbour or the Skybus which flies out of Exeter, Newquay and Lands End airports.
If you are arriving by plane Tresco offer transfers from St Mary's Airport to your accommodation on Tresco. Please make sure to book transfers in advance when Tresco get in touch. If you are coming on the boat, you may transfer to the scheduled Firethorn (on the quay) and can pay on board (cash only).
The Penzance Heliport will provide a direct link to the Tresco island avoiding any connecting boats. It is a journey time of 15 minutes door-to-door.
Travel information and other questions you may have are covered on the Tresco website FAQ page.
NB: Once you have booked your painting course, you will receive an automated order confirmation. Following your order one of our team will be in touch to discuss your booking and take a few further details. Our team will then inform the Tresco Inn of your booking and they will then contact you to take your accommodation deposit. The deposit is £480.00 if you are a solo traveller with a balance of £1015.00 to pay eight weeks before arrival. Or £350.00 deposit per participant sharing a room with £745.00 each to pay eight weeks before arrival. Please also note you need to arrive the day before the course start date, departure is the day after the last day of painting. There is a maximum of 12 people per course enabling every participant plenty of time with the experienced artist tutor.
Please read the Terms & Conditions in full, please also be aware that you will need to book your travel to and from the islands along with holiday travel insurance.
Tutor:
Tresco Tutors
Location:
The painting holidays are based at The New Inn, Tresco Island, Isles of Scilly, 28 miles from the Cornish coast.
Materials used on this course:
All painting materials, different types of paper and brushes are provided by the art school. These courses offer a broader and free approach to landscape painting with water-based paints used alongside other mixed media.
Level:
All levels of previous experience are welcome but a little experience with painting outdoors would be helpful.
Age:
We would advise that this course is suitable for those of 16 years of age and upwards (16-18yr olds must be accompanied by an adult, who is a paying participant).
Lunch:
Lunch is not provided, you can order a packed-lunch with The New Inn.